3437 East Sauk Trail, Chicago Heights, IL 60411 • Greenhouse Phone: 708 758 1244 • Office Phone: 708 758 3838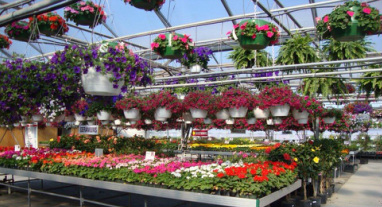 We are Open!
Come in and see us from 9am to 6pm Monday through Saturday! We have trees, shrubs, annuals, and perennials! We would love to help you with your plant needs!




Wedding Venue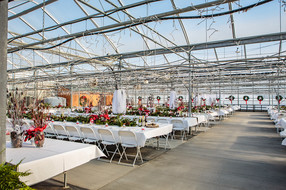 Carl and Debbie's (Owners) oldest daughter, Kayla, got married December 2015. Her reception was held in the main greenhouse on the farm! It looked beautiful and went very well. So, if you or someone you know is looking for a unique wedding venue, please email us, and we can get you some details! It is also a great place for birthday parties or other events!
---
Potting Station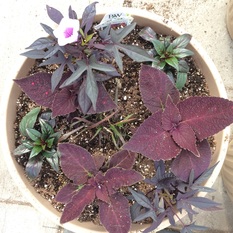 Bring in any size container from your home or choose from a variety that we have to offer, and we will plant it up for you just the way you like it! Our team would love to help you create the look that you have imagined.
---
Basket Buddys
Here at Smits Farms, we have a large variety of different kinds of pots and hanging baskets. But one of our favorites is Basket Buddys. These super cool containers are either a "tower" or a UFO (a unique flowering object). The interesting things about these hanging baskets is that they have flower holes on all of their sides, which provides a fuller look. Come in and check out these amazing baskets! Or check them out at
www.basketbuddys.com
.
---
Craft Fair and Garage Sale
In December, we host an Indoor Craft Fair, and in February, we host an Indoor Garage Sale. The date for the upcoming year is to be determined. Watch your email, this website and Facebook for more information!